Product Name:Heating Wire

Configuration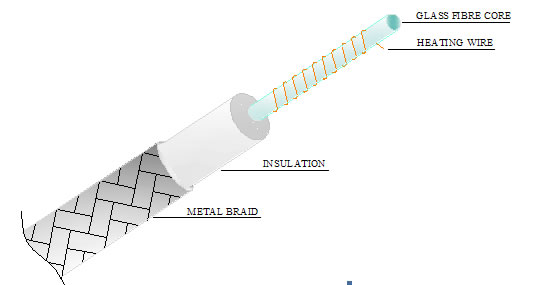 Applications
The heater wire are mainly used in domestic appliances, cold industry and some machines where either freeze protection or temperature maintenance is required.
Technical data



RXV

RXG

Diameter

From Ø2mmto Ø3mm

From Ø2mmto Ø3.5mm

Winding support

From Ø0.5mmto Ø1.5mmfiberglass core

Heating element

Nickel-Chromium or Copper-Nickel alloy wire

Electrical insulation

105℃PVC

Silicon rubber

Tolerances

±5% on resistance

+0.2/-0.1mmon diameter

Output

Up to 15W/m

Up to 40W/m

Voltage

Max. 600V

Max. cable surface

temperature

105℃

200℃

Min. cable surface

temperature

-30℃

-70℃
Heating cords can be supplied with a braid for mechanical protection and earthing.
·Fiberglass
·Tinned copper
·Stainless steel wire
·Aluminum Magnesium alloy wire